What is an Endowment Fund and who does it benefit?
What is an Endowment Fund and who does it benefit?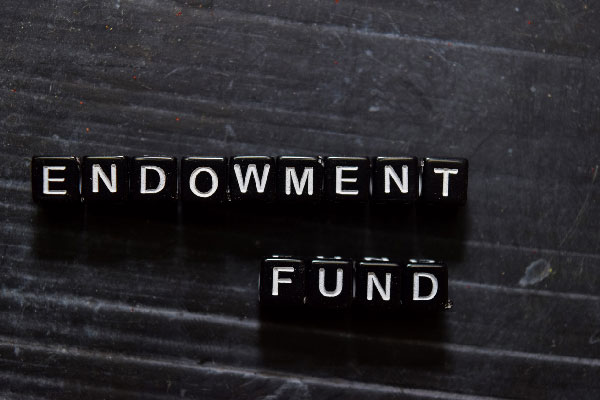 Donations put into an Endowment Fund at a Community Foundation are overseen by an investment committee whose ethical mandate is to: protect and grow the corpus (original donation amount aka principal gift), and facilitate the making of annual grants to organizations chosen by the donor and/or donor family. The grants can be made perpetuity or until a specified "sunset" date when the Fund is meant to be spent out. The investment committee is comprised of investment company advisors, staff managers, and investment knowledgeable board members.
Endowment Funds are pools of money invested* with the purpose of growth to then derive charitable giving from the original amount. Creating and maintaining Endowment Funds are the essential backbone of Community Foundations which are registered as an IRS 501(c)(3) nonprofit organizations. However, instead of delivering programs and services to underserved populations, their entire focus is to serve donor and/or donor family charitable interests.
Approximately 80% of all nonprofits registered as 501(c)(3) have no investment capacity or committees of their own to create or oversee Endowment Funds. They frequently operate with less than a year's worth of operating budget and little or no reserves. When generous donations arrive at these organizations by a donor who wishes to have an Endowment Fund setup, they often outsource to a Community Foundation.
How does it work?
The overarching goal for both a nonprofit organization and a Community Foundation is to effectively manage Endowment Funds to support charitable interests that are important to the donor and/or donor's family. The income stream generated from invested assets helps the designated nonprofit use their operating budget to the highest or most urgent needs knowing the Fund's invested outcome will annually help sustain and/or offset program expenses.
For example, a donor creates an Endowment Fund at a healthcare organization for children who are undergoing hospital-based cancer treatment and the donor wants to enable them to stay academically current by offering school supplies, iPads and computers, etc. The organization can count on a certain dollar amount each year from the Fund's invested outcome to offset expenses associated with operating a school program for cancer patients. While such a noble program is amazingly wonderful, the healthcare organization also needs to staff people to oversee and manage the program and such costs might not always be covered by the organization. If the Fund cannot cover staffing and associated costs to run the program or if the program goes away entirely, then what?
A Community Foundation Vs. a Nonprofit
A strong benefit of creating an Endowment Fund at a Community Foundation is the never-ending perpetual nature of the original gift generating charitable gifts from the investment corpus. Since Community Foundations provide no programs or services of their own and have extremely low administrative costs, they are donor-centered managing the outflow of support to external organizations. If a nonprofit discontinues a program, dissolves its entire operation, or merges with another organization, the Community Foundation's board of directors is ethically bound to research, investigate, and analyze other nonprofit organizations who are delivering similar services/programs and to reallocate future annual distribution to a similar organization. In essence, they are the honorable shepherd of a donor or donor family's dream and intentions to serve a certain population of people, important cause, or causes.
Creating an Endowment Fund at a nonprofit organization can have instability due to unforeseen and unpredictable institutional changes. For example, an Endowment Fund could've been created to sustain something that becomes obsolete or radically changes in the future. Endowments from decades before were created to fund research into a rare disease and when scientists find a cure, then what? The organization can reallocate the endowment fund to benefit anything they wish regardless of the donor or donor family's original interests. Additionally, if the organization is faced with any extreme financial difficulty, the Fund's corpus can be liquidated – temporarily or permanently — to backfill shortfalls in its operations budget. Historically, larger organizations are well known to expend time and resources to work with the donor and donor family to provide contingencies in this case, but overall, the corpus is theirs to use at their discretion.
Community Foundations are considered a premier safety net for their ability to provide the strongest, most ethical, long-term repository for investing in a way that benefits donors' charitable interests with a never-ending horizon. Since it operates solely to provide an annual monetary outcome to help donors who want to help nonprofits deliver valuable programs and services, it has a singular interest in that objective only. And should a nonprofit's programs or services no longer align with the donor's original intentions, the Foundation's board of directors will apply all resources necessary to find the next best and most closely aligned replacement.
The choice to create an Endowment Fund with a nonprofit organization or Community Foundation is always dependent upon the donor or donor family's interests. However, in the long term, with future horizons filled with unforeseen events, a Community Foundation's administration of the Fund can be the most long-term solution with its fixed dedication to donor interests.
*investment outcomes are generated through ownership of stocks (equities), bonds (fixed income), and alternatives (mutual funds, private equities, and real estate).
---
Legacy Endowment is a North County San Diego regional resource for helping people create giving plans to benefit beloved charities, pet passions, community projects, or to distribute scholarships and advance special projects. We invite you to learn more about our highly personalized approach to planning your future charitable intentions. Together, we can create a lasting legacy customized to your wishes.
There are many benefits of establishing a fund at Legacy Endowment. Learn about the funds we support, the approach we take and how that aligns with your legacy planning.
Your Legacy Starts Here
---
Contact us today to set up your own personal or family fund to support your favorite non-profits.⠀
Contact Us